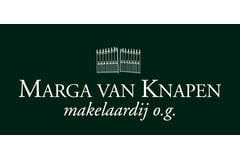 Marga van Knapen Makelaardij Amersfoort
Alle aandacht, voor U en Uw huis.
About us
Wil je zaken doen met een kleinschalig kantoor, met veel persoonlijke aandacht voor de klant en het pand, dan ben je bij ons aan het juiste adres.
Ons kantoor is in 1997 opgericht als eerste vrouwelijke makelaarskantoor van Amersfoort.
Twintig jaar lang waren wij gehuisvest aan de Stadsring, onlangs zijn wij verhuisd naar een nieuwe locatie.
Wij verlenen alle belangrijke makelaarsdiensten: de aankoop, verkoop en verhuur van woningen en appartementen. Ook kun je bij ons terecht voor een goede taxatie. Ons werkgebied is heel Amersfoort, Leusden, Hoogland en omliggende gemeentes.
Wij zijn aangesloten bij de Nederlandse Coöperatieve Vereniging van Makelaars en Taxateurs in Onroerende Goederen (NVM), de Stichting VastgoedCert Wonen/MKB en het Nederlandse Register Vastgoed Taxateurs (NRVT).
Verkoop van je woning: Ben je van plan je woning te verkopen? Bel ons voor een gratis waardebepaling. Je kunt vrijblijvend contact met ons opnemen, een afspraak is vlot gemaakt.
Aankoop van een woning: Heb je een woning gezien op Funda en je weet even niet hoe verder? Wij doen voor jou de prijsonderhandelingen, zorgen dat alles juridisch perfect geregeld wordt en laten de woning bouwtechnisch keuren door een onafhankelijk bureau.
Wij zijn je graag van dienst!
What we do
Certificering

NVM, VastgoedCert and NRVT

Website

Http://www.margavanknapen.nl

Aanbod

Woningen en bedrijfsonroerend goed

Soort aanbod

Woningen, appartementen, bestaande bouw, (Rijks)monumenten and bedrijfspanden

Twitter

Http://www.twitter.com/margavanknapen

Specialismen

Aankoopmakelaar and verkoopmakelaar
Berkenweg 10,
3818 LB Amersfoort
Today geopend op afspraak, available by phone until 17:00
All contact details
Reviews
Marga is als makelaar gespecialiseerd in de regio Amersfoort, maar heeft bij ons bewezen in Utrecht ook heel goed haar weg te weten. Marga heeft ons ...
93
Sale
In the past 2 years, 12 clients wrote a review about this agent:
9.3

Knowledge of the local market

9.4

Expertise

9.3

Service and support

9

Price/quality
All reviews (

79

)
98
Buy
In the past 2 years, 3 clients wrote a review about this agent:
10

Reachability and communication

9.7

Expertise

10

Negotiation and results

9.7

Price/quality
All reviews (

25

)
Contact
Visiting and mailing address
Berkenweg 10
3818 LB Amersfoort
Opening hours
Monday

Mon

By appointment

Tuesday

Tue

By appointment

Wednesday

Wed

By appointment

Thursday

Thu

By appointment

Friday

Fri

By appointment

Saturday

Sat

By appointment

Sunday

Sun

Closed
Calling hours
Monday

Mon

9:00 - 17:00

Tuesday

Tue

9:00 - 17:00

Wednesday

Wed

9:00 - 17:00

Thursday

Thu

9:00 - 17:00

Friday

Fri

9:00 - 17:00

Saturday

Sat

10:00 - 12:00

Sunday

Sun

Unavailable
Error while loading the page. Please try again.