Telman & Van Leeuwen Makelaars
Persoonlijk, actief en betrouwbaar.
About us
Bij Telman & Van Leeuwen Makelaars realiseren wij ons goed dat het aankopen of verkopen van een woning voor u een ingrijpende kwestie is. Zowel emotioneel als zakelijk. Allerlei aspecten kunnen er bij komen kijken: van prijsadvies, bouwkundige keuring, onderhandelingen tot de uiteindelijke overdracht en nazorg.
Vanzelfsprekend wilt u het maximale uit de verkoop van uw woning halen en bij een eventuele aankoop zo min mogelijk betalen. Dit betekent dat u in een korte periode talloze belangrijke keuzes moet maken. Kiezen is makkelijk als u kennis van zaken heeft. Wij helpen u graag om vóóraf de juiste afwegingen te maken. In onze professionele aanpak staat een doortastende en enthousiaste begeleiding centraal.
What we do
Diensten

Verkoopbemiddeling, Aankoopbegeleiding and Taxaties

Certificering

NVM, NWWI, Taxateurs Unie and VastgoedCert

Facebook

Www.facebook.com/TelmanVanLeeuwen/

Website

Www.telmanvanleeuwen.nl

Instagram

Www.instagram.com/telmanvanleeuwenmakelaars
Prinses Julianaplein 72,
3817 CS Amersfoort
Today opened until 17:30, available by phone until 17:30
All contact details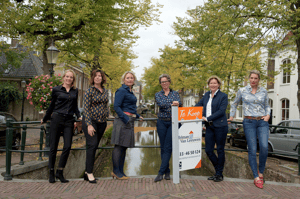 Reviews
Heel plezierig contact met vooral Hetty Telman. Zij bekijkt de markt deskundig en verplaatst zich tevens in jouw situatie. Ook het advies inzake foto'...
Error while loading the page. Please try again.