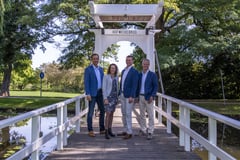 Beltman Makelaars Berkelland B.V.
Verkoop, aankoop, taxatie en/of hypotheek? Meteen het juiste adres!
About us
Advies en begeleiding bij:
- verkoop van uw woning;
- aankoop van een woning;
- taxatie van woningen;
- gratis waardebepaling van uw (eigen) woning;

Beltman Makelaars heeft oktober 2019 een 2e vestiging geopend in Berkelland. Beltman Makelaars Berkelland is met enthousiaste mensen een gedreven kantoor, gevestigd in hartje Borculo. Elke medewerker kent iedere klant en voelt zich daarbij betrokken.
De lokale woningmarkt is ons dagelijks vak. Wij beschikken over een unieke analysemethode om objectief de waarde van uw woning te bepalen.

Dit in combinatie met onze persoonlijke betrokkenheid bieden wij u aan als beste kans op een geslaagde ver- of aankoop.
Zes dagen per week volledig geopend!
Bel 0545-745200 of mail berkelland@beltman.nl voor een vrijblijvende kennismaking.
What we do
Diensten

Verkoop, Aankoop, Taxaties, Hypotheken en Gratis W

Specialisme

Woningmarkt, Recreatiemarkt, Nieuwbouw en Taxaties

Gecertificeerd

NVM, VastgoedCert en NRVT

Waarom Beltman?

Fullservice of Zelf met Service, 6 Dagen geopend

Dienstverlening

Persoonlijk, betrokken en onafhankelijk
Muraltplein 26,
7271 AW Borculo
Today opened until 17:30, available by phone until 17:30
All contact details
Reviews
Zeer kundige aanpak. Weet waar het over gaat en een goed en deskundig advies. Zeer tevreden over de aanpak voor de verkoop van de woning. Goed op de...
Error while loading the page. Please try again.