Ineke Schokker Makelaardij
Een persoonlijk, service gericht kantoor met voor u comfortabele werktijden.
About us
Ineke Schokker Makelaardij is een klein kantoor dat u uiterst persoonlijk en professioneel begeleidt op het gebied van de woningmakelaardij. U heeft het voordeel van het NVM-computernetwerk, waarin alle bij NVM-makelaars te koop en te huur aangeboden objecten binnen één dag verschijnen. En bij verkoop of verhuur staat uw huis of appartement ook op "Funda", de meest bekeken woonsite van Nederland.
Bij Ineke Schokker Makelaardij heerst geen "van 9 tot 5" mentaliteit en wij voelen ons betrokken bij uw aan- of verkoopbeslissing.
Met Ineke Schokker Makelaardij staat u er beslist niet alleen voor.
Aan- en Verkoop
Ineke Schokker Makelaardij zorgt voor een professionele en persoonlijke begeleiding bij de aan- en verkoop van uw woning. Onze taak houdt niet op wanneer wij voor u een passende woning hebben gevonden. Het verzorgen van een bouwkundige inspectie en een goede controle op de koopovereenkomst behoren ook tot onze services. Ook na de overdracht kunt u nog altijd bij ons terecht voor eventuele vragen.
Aan- en verhuur
Naast de aan- en verkoop kunt u bij ons ook terecht voor de aan- en verhuur van uw gestoffeerde en/of gemeubileerde woning. Een door ons opgestelde inventarislijst, alsmede een "checklist" maken deel uit van de huurovereenkomst en worden gecontroleerd en ondertekend vóór het overhandigen van de sleutels aan de huurder.
En verhuurt u uw huis voor langere tijd, terwijl u zelf naar het buitenland gaat, dan nemen wij graag het beheer van u over.

Taxaties.
Een woning aankopen of verkopen? De waarde vaststellen voor een hypotheek?
Laat uw woning door ons snel en vakkundig taxeren. Binnen een week leggen wij onze bevindingen vast in een verzorgd NVM-taxatierapport.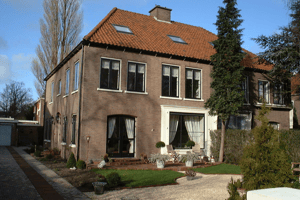 Contact
Visiting and mailing address
Bezuidenhoutseweg 492
2594 BG Den Haag
Opening hours
Monday

Mon

9:00 - 19:00

Tuesday

Tue

9:00 - 19:00

Wednesday

Wed

9:00 - 19:00

Thursday

Thu

9:00 - 19:00

Friday

Fri

9:00 - 19:00

Saturday

Sat

10:00 - 17:00

Sunday

Sun

Closed