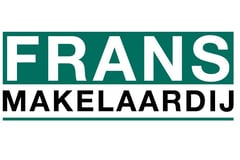 Frans Makelaardij
U verdient ons terug!
About us
Frans Makelaardij is uw no nonsense makelaar voor Deventer en omgeving, als het gaat om de verkoop, de aankoop of de (NWWI) taxatie van uw woning.

In welke prijsklasse uw (droom)huis zich ook bevindt, wij werken graag hard voor u om uw belangen te behartigen. Wij zijn telefonisch bereikbaar van maandag tot en met vrijdag van 8.30 uur tot 21.00 uur en op zaterdag van 09.00 uur tot 17.00 uur. Bovendien kunt u ons 24 uur per dag, 7 dagen in de week mailen!
Onze slogan is: U verdient ons terug!
What we do
Diensten

Aankoop, verkoop, taxaties en advies

Certificering

NVM, NWWI and VastgoedCert

Website

Www.fransmakelaardij.nl, www.funda.nl and www.facebook.nl/fransmakelaardij

Specialisme

Woningen en appartementen in de regio Deventer

Aanbod

Woningen, appartementen and kavels
Geert Grootestraat 44,
7411 GS Deventer
Today opened until 17:00, available by phone until 21:00
All contact details
Reviews
Frans is niet de goedkoopste maar dat verdient zich terug in zijn dienstverlenende kwaliteit : hij kent de markt in Deventer al jaren, is zeer transpa...
Error while loading the page. Please try again.