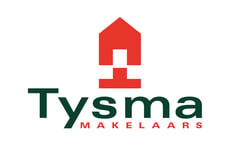 Tysma Makelaars
Persoonlijke aandacht en service, dat zijn de kenmerken van Tysma Makelaars!
About us
Persoonlijke aandacht en service, dat zijn de kenmerken van Tysma Makelaars. U als klant staat centraal. Of u nou uw woning wilt verkopen of een woning wilt kopen, Tysma Makelaars staat graag voor u klaar. Wij zijn zeer breed georiënteerd; u kunt in iedere prijsklasse terecht voor een professionele aanpak.
Naast makelaars hebben wij erkend hypotheekadviseurs en assurantieadviseurs in huis. Zo hebt u alles binnen handbereik om uw zaken meteen goed en onder één dak te regelen. Op deze manier houden wij de lijnen kort en dat is wel zo handig voor u.
Bij Tysma Makelaars kunt u terecht voor onder meer verkoop, koop-/aankoopbegeleiding, taxaties, huur en verhuur van zowel woningen als bedrijfspanden. Wilt u een woning verkopen? Tysma Makelaars maakt gebruik van de nieuwste presentatiemogelijkheden en werkt op een vernieuwende en eigentijdse wijze.
Wilt u meer informatie of een afspraak maken? Wij staan u graag vrijblijvend te woord. Ook buiten kantooruren en in het weekend. Dat vinden wij vanzelfsprekend.
Graag tot ziens bij Tysma Makelaars!
What we do
Specialismen

Verkoop, aankoop, taxaties, hypotheken and verzekeringen, advies bij onteigening

Aanbod

In iedere prijsklasse kunt u bij ons terecht

Certificering

VastgoedCert gecertificeerd, NWWI

Website

Https://www.tysma.nl
Hoge Hondstraat 113,
7413 CE Deventer
Today opened until 17:00, available by phone until 21:00
All contact details
Reviews
De makelaar kent de stad en het deel van de stad waarin ons appartement ligt. De verwachting van de makelaar was een verkoop binnen 3 a 4 weken, is ru...
Error while loading the page. Please try again.