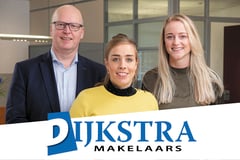 Dijkstra Makelaars
Meer kennis, Meer ervaring, Meer slagkracht
About us
Wat is úw verhaal?
Een huis verkopen is altijd spannend. Het is een onzekere periode waarin u veel keuzes moet maken. Keuzes als: Eerst dit huis verkopen of alvast een ander huis kopen? Tijdelijk iets huren of wachten we tot we ons ideale koophuis vinden? Willen we echt verhuizen of is verbouwen een betere optie? Laten we ons huis schilderen voor de verkoop? Zetten we in op de hoofdprijs of vragen we een reële prijs, zodat we ons huis misschien sneller verkopen? Voor de meeste mensen geen onderwerpen waar ze dagelijks over nadenken. Daarom kiest Dijkstra Makelaars voor de persoonlijke aanpak. Voor ons zijn die dilemma's wél dagelijkse kost.
Wij willen uw verhaal kennen. Wat is de reden dat u wilt (of moet) verhuizen? Wat zijn uw wensen en voorwaarden? Welke valkuilen liggen er eventueel op de loer? Door goed te luisteren en ons te verdiepen in uw situatie, kunnen we betere service leveren en ervoor zorgen dat u straks terugkijkt op een spannende, maar ook prettige tijd.
What we do
Diensten

Verkoop, Aankoop , Taxaties and Verhuur

Certificering

NRVT, VastgoedCert and NVM
Berglaan 14,
9203 EG Drachten
Today closed, currently not available by phone
All contact details
Reviews
Eerst van beide kanten wat stroef, maar toen het hele koop en verkoopproces op gang kwam, zijn heen erg tevreden.
Error while loading the page. Please try again.