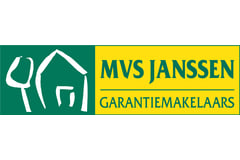 MVS Janssen Garantiemakelaars
Uw NVM makelaar voor Maas en Waal
About us
Welkom bij Hans Janssen Garantiemakelaars in Druten. Vanuit ons kantoor, wat midden in het winkelcentrum van Druten ligt, bestrijken wij als makelaar het mooie Land van Maas en Waal. Wij zijn actief en gedreven in ons vak! Zo staan wij zes dagen per week voor u klaar (zaterdag op afspraak), hebben wij een live chat functie op onze internetsite www.hansjanssendruten.nl waar u op werkdagen tot 23.00 uur terecht kunt met al uw vragen en zijn wij actief op Twitter en Facebook. Ons team in Druten bestaat uit 3 enthousiaste medewerkers, allen met een flinke dosis ervaring. Zo is er een gecertificeerd NVM makelaar Frank van Lunen, onze gecertificeerde assistent makelaar Lindie Siemensma en commercieel binnendienstmedewerker Jennifer van Maren.
Onze diensten
Verkoop van woonhuizen. Zoals u van een garantiemakelaar gewend bent gaan ook wij voor een Full service pakket. In een persoonlijk en vrijblijvend gesprek wordt de verkoop van a tot z met u doorgenomen en onze activiteiten toegespeeld op uw wensen. Neem u zelf graag een gedeelte van de verkoop voor uw rekening? Deeldiensten zijn vanzelfsprekend ook mogelijk.
Aankoop van een woonhuis is vaak de grootste investering in een mensenleven,vandaar dat steeds meer kopers zich bij laten staan door een aankoop makelaar. Ook hier geldt: uw wensen staan centraal. Onze dienstverlening varieert van een aankoopadvies (vanaf € 295,=) tot een uitgebreide aankoopbegeleiding. Maak gerust een afspraak, bel of mail ons voor meer informatie.
Taxatierapporten bestaan er in vele soorten.
Beknopt rapport voor intern gebruik, kantonrechterstoestemming of echtscheiding
Financieringsrapport voor de aanvraag van een hypotheek zonder NHG
Gevalideerd rapport voor de hypotheekaanvraag met NHG (of indien de geldverstrekker dit wenst) voor de laatste vorm zijn wij aangesloten wij het NWWI. Zodoende bent u voor taxaties, welke deskundig uitgevoerd moeten worden, bij ons aan het goede adres.
What we do
Gecertificeerd

NVM, NWWI and VastgoedCert

Diensten

Aankoop, Verkoop, Taxaties and diverse verkoop en aankoop pakketten

Aanbod

Woningen en appartementen in elke prijsklasse, recreatiewoningen and Nieuwbouw

Website

Aankoop, Verkoop and Onderscheidende en professionele foto's
Hogestraat 81,
6651 BH Druten
Today opened until 17:30, available by phone until 23:45
All contact details
Reviews
Een eerlijke, vriendelijke, deskundige en toegankelijke makelaar met een goede verkoopstrategie. Goede foto's en verkoopbrochure.
8.9
Sale
In the past 2 years, 14 clients wrote a review about this agent:
9.1

Knowledge of the local market

9

Expertise

8.8

Service and support

8.8

Price/quality
All reviews (

46

)
9.3
Buy
In the past 2 years, 2 clients wrote a review about this agent:
9.5

Reachability and communication

9.5

Expertise

9.5

Negotiation and results

8.5

Price/quality
All reviews (

3

)
Contact
Visiting and mailing address
Hogestraat 81
6651 BH Druten
Opening hours
Monday

Mon

8:30 - 12:30

, 13:30 - 17:30

Tuesday

Tue

8:30 - 12:30

, 13:30 - 17:30

Wednesday

Wed

8:30 - 12:30

, 13:30 - 17:30

Thursday

Thu

8:30 - 12:30

, 13:30 - 17:30

Friday

Fri

8:30 - 12:30

, 13:30 - 17:30

Saturday

Sat

By appointment

Sunday

Sun

Closed
At this office, you can also make appointments for viewings outside these opening hours.
Calling hours
Monday

Mon

0:00 - 23:45

Tuesday

Tue

0:00 - 23:45

Wednesday

Wed

0:00 - 23:45

Thursday

Thu

0:00 - 23:45

Friday

Fri

0:00 - 23:45

Saturday

Sat

0:00 - 23:45

Sunday

Sun

0:00 - 23:45
Error while loading the page. Please try again.