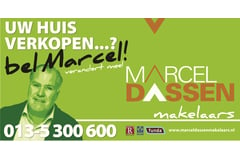 Marcel Dassen Makelaars
"Verandert mee"
About us
Een jong kantoor met een frisse uitstraling gesitueerd in het hart van Goirle tegenover de Hovel en diverse druk bezochte gelegenheden als het Jan van Besouwhuis, de weekmarkt, eetcafe Mozes, Flanders, postkantoor, bankkantoren en vooral de vele terrassen die Goirle rijk is en allemaal rondom dit kantoor liggen waardoor uw woning wordt gezien! Een geweldige zichtlocatie waar uw aanbod gepresenteerd wordt zoals het hoort. Een nieuwe manier van makelen waarbij bereikbaarheid, creativiteit, innovatie en betrokkenheid hoog in het vaandel staan.
De makelaardij is de afgelopen jaren enorm veranderd. Marcel Dassen Makelaars is die verandering voor! Wij werken met de nieuwste technieken, zijn bijzonder goed geautomatiseerd en lopen voorop als het gaat om innovatie.
Wij maken als geen ander optimaal gebruik van nieuwe ontwikkelingen als "de marktverkenner" (Funda), statistieken, mobiele applicaties en zullen ook de eerste zijn die gaat werken met de "oculus rift". Kortom, wij denken door vooruit te lopen op ontwikkelingen uw woning beter te verkopen.
Wij maken graag vrijblijvend een afspraak met u!
What we do
dienstverlening

Samen met de opdrachtgever tot iets moois komen

specialisme

Creativiteit, meerdere wegen leiden naar Rome....

Verkoop (NVM)

Voorop in innovatie!

Geceritficeerd

NWWI, NVM and NVM, Vastgoedcert, NWWI en
Tilburgseweg 16,
5051 AH Goirle
Today opened until 17:30, available by phone until 17:30
All contact details
Reviews
De contacten verliepen uitstekend. Woning was snel verkocht niet ver van de vraagprijs. Dat had de makelaar ook ingeschat. Op een gegeven moment liepe...
Error while loading the page. Please try again.