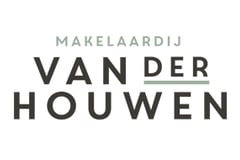 Makelaardij van der Houwen
Professionele rebellen
About us
Altijd 1 stap voor op de rest.
Wij zijn altijd in beweging naar beter. Naar nog leuker,
nog sneller en nog slimmer. Waarom ouderwets blijven
als het allemaal veel handiger kan?
Met de nieuwste technologische ontwikkelingen kunnen
wij wat via traditionele kanalen vaak niet kan: adverteren
op Facebook, via een 3D tour het hele huis tonen, of met
een filmpje de ware kracht van een pand laten zien.
Daarmee komen stenen tot leven.
En ook ons klantcontact is van deze tijd. Appen is soms
gewoon sneller en fijner dan mailen of bellen. We leven
toch niet voor niets in de 21e eeuw?
Zo kan het ook.
Plezier
Regelmatig zeggen we: wij hebben het mooiste vak van de
wereld. En zo is het.
Elke dag maken we mensen blij. Vinden we dat enige echte
droomhuis, vissen we dat perfecte appartement ertussenuit
voordat het op de markt komt, of zorgen we dat een pand
dat al tijden te koop stond, met een slimme strategie wél
direct voor een prachtig bedrag verkocht wordt.
Het eindresultaat is iedere keer opnieuw een feest. Dat ene
blijmakende telefoontje met: 'Ja hoor, het is gelukt, en hoe.
Gefeliciteerd!'
Dat plezier, dáár doen we het voor.
Jacco, Esther, Tim, Sanne, Meike, Lies & Maarten
What we do
Website

Www.mvdh.nl

Diensten

Verkoop en aankoop

Specialisme

Social media en multi media
Reviews
Bijzonder enthousiaste makelaar, reageert snel en adequaat. Heeft wat ons betreft een zeer realistische kijk op de huizenmarkt. Is zeer flexibel en be...
Error while loading the page. Please try again.