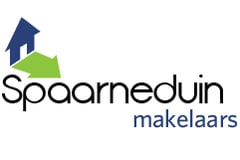 Spaarneduin
Actief, flexibel en gedreven makelaarskantoor met een lage drempel.
About us
Spaarneduin makelaars is een actief makelaarskantoor in het centrum van Haarlem. Doordat wij met een klein team werken kunnen wij uw verkoop en/of koopopdracht zeer flexibel behandelen.

Wij zijn onderdeel van de Gilde Makelaars, een regionaal samenwerkingsverband van 6 NVM makelaarskantoren. U profiteert daarvan doordat wij gebruik kunnen maken van elkaars expertise.

Aankoop:
- Geen inschrijfkosten
- Dienstverlening op basis van "no cure no pay"
- Inschrijven na vrijblijvend kennismakingsgesprek.
- Dagelijks mail met het nieuwste aanbod.
- Bij bezichtigingen gaan wij altijd met u mee.
- U blijft dagelijks op de hoogte van het nieuwste aanbod.
Verkoop:
- Wij beschikken over alle moderne communicatiemiddelen om uw woning optimaal onder de aandacht te brengen van potentiele kopers.
- Wij verlenen een full service verkoopdienst.
- Standaard uitgebreide professionele foto-reportage van uw woning.
- Matterport 3D presentatie voor virtuele bezichtigingen
- 360 graden foto's
- Uitgebreide kleurenbrochure.
- Fraaie interactieve plattegronden, ook op Funda.
- Volledige verzorging van afspraken, bezichtigingen en verkooponderhandelingen.
- Inzicht in de voortgang via een klanten-intranet.
- Bel ons voor een afspraak!

Taxatie:
Wij verzorgen op een snelle, vakkundige wijze uw (spoed)taxatie ten behoeve van bijvoorbeeld aankoop of uw (her)financiering. Onze gevalideerde (NWWI) taxatierapporten worden door alle hypotheekverstrekkers geaccepteerd. Bel ons voor een offerte.
What we do
Diensten

Taxaties, NWWI taxaties, Aankoopbemiddeling, Verkoopbemiddeling and Huur en verhuur

Certificering

Vastgoedcert
Gedempte Raamgracht 14 zw,
2011 WJ Haarlem
Today closed, currently not available by phone
All contact details
Reviews
Prima ervaringen met Spaarneduin. Fijne mensen-niet zo glad wat vaak voorkomt onder makelaars. Contact met alle 3 makkelijk en prima begeleiding voor...
Error while loading the page. Please try again.