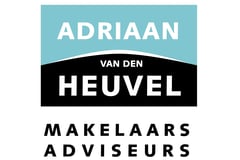 Adriaan van den Heuvel makelaars en adviseurs
WÉRKT VOOR U!
About us
Door een onafhankelijke instantie zijn wij in een landelijk onderzoek als beste makelaar voor de regio Zuid- oost Brabant uit de bus gekomen. 4e van Noord Brabant en 22e van Nederland.

Er zijn 9000 woningmakelaars in Nederland.

Hier zijn we erg trots op. Deze beoordeling is op basis van een 4 tal criteria tot stand gekomen.

Het onderzoek is dit jaar voor het eerst op vestigingsniveau gedaan, terwijl voorheen de verkopen van meerdere kantoren van een bedrijf of franchiseorganisatie meetelden voor één resultaat. In het onderzoek gaat het uitsluitend om de verkoop van woningen van bestaande bouw.

Factoren die meewegen zijn:
• het aantal transacties;
• de omvang van de portefeuille;
• acquisitie;
• doorlooptijd.

De resultaten zijn afgezet tegen het landelijk gemiddelde. Alleen de doorlooptijden zijn vergeleken met de gemiddelden in de gemeente waar de makelaar de woningen verkoopt, waarbij wij dus als beste uit de bus komen !
Natuurlijk doen wij ons best als no nonsense kantoor maar zonder onze klanten en relaties zou dit resultaat nooit behaald zijn !

Graag lichten wij onze werkwijze toe en laten we zien dat onze onderscheidende kwaliteit een meerwaarde is zonder meerprijs!
What we do
Diensten

Taxaties, Verkoop/Aankoop, Huur/Verhuur, Landelijk vastgoed and Onteigening, Planschade

Website

Onderscheidende en professionele foto's and Plattegronden zien en downloaden

Aankoop

Specialist aankoop / aankoopadviseurs.nl

Gecertificeerd

9 gecertificeerde en beëdigde makelaars, Woning Markt Consulent, VastgoedCert, NWWI, KRMT and Rentmeester, WOZ taxateur

Aanbod

Woningen, Appartementen, Nieuwbouw, Bedrijfs Onroerend Goed and Landelijk Vastgoed/Buitenstate

Specialisme

Nieuwbouw, Bestaande bouw, Bedrijfs Onroerend Goed, Aankoopbegeleiding and Taxaties
Hoofdstraat 155,
5706 AL Helmond
Today opened until 17:30, available by phone until 17:30
All contact details
Reviews
De verkoop van het huis werd uitstekend begeleid, er waren vele bezichtigingen . De presentatie van het fotomateriaal was professioneel .De samenwerki...
Error while loading the page. Please try again.