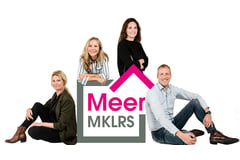 Meermakelaars
Een modern makelaarskantoor met echt persoonlijke aandacht en goede resultaten!
About us
Welkom bij Meermakelaars!
Wij zijn een jong, modern kantoor waar persoonlijke aandacht een zeer belangrijk aspect is. We werken in een klein, zeer ervaren team waardoor wij al onze klanten persoonlijk kennen!
Onze focus ligt uitsluitend op de aan- en verkoop van woningen. Dat zorgt er voor dat wij niet worden "afgeleid" door allerlei andere activiteiten, ons volledig kunnen richten op de verkoop van jouw woning of op de woning die je wilt aankopen. Wij bieden je een persoonlijke en moderne werkwijze, goede en directe bereikbaarheid en gebruiken de modernste verkooptools en presentaties zoals 360 graden foto's en als enige in de regio je woning volledig in 3D via Matterport. Een virtuele bezichtiging zonder 3D-bril!
Het kantoor is opgericht door Paul Israel, een NVM makelaar met ruim 20 jaar ervaring in Hoofddorp. Misschien ken je ons al door onze opvallende roze huisstijl of heb je van ons gehoord op een andere wijze. Wij hebben al een behoorlijk aantal woningen aangekocht en verkocht in de gehele Haarlemmermeer, vast ook in jouw woonomgeving, groot/klein en in alle prijsklassen. Heel wat van onze enthousiaste opdrachtgevers hebben hun ervaringen gedeeld op de Fundasite. Deze vind je onder "beoordelingen" op onze kantoorpagina van Funda. Je kan daar lezen dat wij echt anders werken dan andere makelaarskantoren en nog duidelijk meerwaarde bieden!
Hebben wij je enthousiast gemaakt?
Wij komen graag langs voor een oriënterend "verkoopgesprek" bij jou thuis. Je krijgt dan van ons een waarde-inschatting van de woning met een vrijblijvend verkoopvoorstel. Wil je een woning aankopen dan ben je van harte welkom op ons kantoor voor een vrijblijvend gesprek waarin je al je woonwensen kan aangeven en wij je kunnen informeren over wat er allemaal bij komt kijken.
Dus loop eens bij ons binnen aan de Nijverheidsstraat 5C, op de begane grond, in het nieuwe appartementengebouw "Het Ensemble" tegenover de basisschool De Klimop in Hoofddorp maar natuurlijk kan je ons ook bellen of mailen, dat kan op 023 62 000 42 en info@meermakelaars.nl
Of stuur ons een WhatsApp naar 06 23 40 43 47
Meer informatie vind je op onze website www.meermakelaars.nl
Op deze site staan ook een meerdere video's waarin wij ons voorstellen en onze werkwijze laten zien!
Meermakelaars, een echte makelaardij 3.0, want jij wil toch ook meer?
What we do
Aan- en verkoop

Woningen & appartementen , moderne verkooptools, professionele foto's, altijd 360 graden and 3D-virtuele bezichtiging via Matterport

dienstverlening

Persoonlijke noot, flexibele tijden, aandacht, resultaat and deskundig

kantoor

Modern kantoor, bereikbaar, parkeergelegenheid, representatief and eigentijds

gecertificeerd

NVM, VastgoedCert and Register makelaar - taxateurs o.z.

Meermakelaars

Haarlemmermeer, Zuid-Kennemerland, Meer makelaars, makelaar Hoofddorp and MeerMKLRS
Nijverheidsstraat 5 c,
2132 AZ Hoofddorp
Today opened until 17:30, available by phone until 17:30
All contact details
Reviews
Prettig contact met Paul en wij vonden het fijn dat hij heel direct en eerlijk zijn mening geeft. Verder dacht hij goed met ons mee en had een duideli...
94
Sale
In the past 2 years, 78 clients wrote a review about this agent:
9.4

Knowledge of the local market

9.4

Expertise

9.5

Service and support

9.3

Price/quality
All reviews (

227

)
95
Buy
In the past 2 years, 29 clients wrote a review about this agent:
9.6

Reachability and communication

9.6

Expertise

9.6

Negotiation and results

9.4

Price/quality
All reviews (

66

)
Contact
Visiting and mailing address
Nijverheidsstraat 5 c
2132 AZ Hoofddorp
Opening hours
Monday

Mon

9:00 - 17:30

Tuesday

Tue

9:00 - 17:30

Wednesday

Wed

9:00 - 17:30

Thursday

Thu

9:00 - 17:30

Friday

Fri

9:00 - 17:30

Saturday

Sat

Closed

Sunday

Sun

Closed
Calling hours
Monday

Mon

9:00 - 17:30

Tuesday

Tue

9:00 - 17:30

Wednesday

Wed

9:00 - 17:30

Thursday

Thu

9:00 - 17:30

Friday

Fri

9:00 - 17:30

Saturday

Sat

Unavailable

Sunday

Sun

Unavailable
Error while loading the page. Please try again.