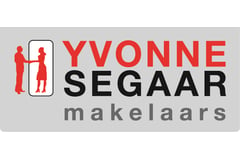 Yvonne Segaar Makelaars
Gevoel met WONEN
About us
Welkom bij Yvonne Segaar makelaars, dé makelaar van het Groene Hart
U zoekt een gedreven makelaar met een persoonlijke aanpak en gedegen kennis van de regio en het aanbod? Kies dan voor YVONNE SEGAAR makelaars, een full service makelaarskantoor met diensten op het gebied van aankoop, verkoop, taxatie en verhuur.
YVONNE SEGAAR makelaars is een kleinschalige organisatie. Bij ons vindt u zowel de voordelen van een persoonlijke aanpak als de zekerheid van kennis en kwaliteit. Niet voor niets zijn wij lid van de grootste branchevereniging in de makelaarswereld: de NVM.
Op zoek naar uw ideale woning?
Yvonne Segaar is uw makelaar Wanneer u op bent naar een koopwoning, zijn er voldoende (online) mogelijkheden om huizen te zoeken en bezichtigingen aan te vragen. Maar wat doet u als u een woning hebt gevonden die voldoet aan uw wensen en eisen? Het is belangrijk om te weten dat een verkoopmakelaar maar één belang heeft: het huis tegen een zo hoog mogelijke prijs verkopen. Maar wie behartigt úw belangen? Uw aankoopmakelaar is er voor ú!
De verkoop van uw woning
U wilt uw woning verkopen? Dan bent u bij ons aan het juiste adres.De verkoop van uw woningU wilt uw woning verkopen? Dan bent u bij ons aan het juiste adres. Neem snel contact met ons op en maak een afspraak voor een vrijblijvende waardebepaling.
Woning laten taxeren? Yvonne Segaar is uw makelaar!
Het taxeren van een woning is een serieuze zaak. Een taxatierapport moet dan ook aan vele eisen voldoen wanneer u geld wilt lenen van een bank om uw woning te financieren.
YVONNE SEGAAR makelaars voldoet aan alle eisen voor het maken van het tegenwoordig vereiste taxatierapport. Zij is ingeschreven en voldoet aan de gestelde eisen van het Nederlands Register voor Taxateurs (NRVT), VastgoedCert en de Nederlandse Vereniging van Makelaars (NVM).
www.yvonnesegaar.nl
What we do
Certificering

NVM Makelaars and NWWI

Dienstverlening

Aankoop, Taxaties, Verkoop and Nieuwbouw

Gecertificeerd

NVM, VastgoedCert and NWWI

Website

Onderscheidende en professionele foto's, Aankoop, Verkoop and Taxaties

Specialisme

Aankoop, Verkoop, Taxaties, Verhuur and Wonen
Prins Bernhardstraat 25,
2396 GA Koudekerk aan den Rijn
Today geopend op afspraak, available by phone until 17:00
All contact details
Reviews
Yvonne hield ons goed op de hoogte als er ontwikkelingen waren en was duidelijk in het uitleggen van het hele verkoopproces en de papierwinkel. Korto...
Error while loading the page. Please try again.