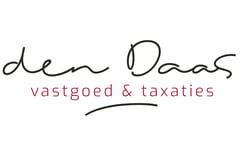 Den Daas Vastgoed & Taxaties B.V.
Dé Makelaar en Taxateur die Leusden kent!
About us
Niet zomaar kernwoorden, maar criteria voor het juiste resultaat. Cor den Daas RT RM REV heeft zich in de afgelopen 25 jaar gespecialiseerd in het taxeren van en adviseren over (her)ontwikkelingsvastgoed, woningen en bedrijfsmatig vastgoed. Hij adviseert Commercieel Vastgoed professionals ten aanzien van hun vastgoed, is adviseur als het gaat om erfpacht- en opstalvraagstukken en mediator voor diverse vastgoedgeschillen. Door de ervaring van Cor binnen de woningmakelaardij is hij ook uitstekend in staat particulieren te adviseren bij de aankoop van hun woning, vastgoed of belegging. Duurzaamheid en energiebesparende maatregelen maken een belangrijk onderdeel uit van onze dienstverlening. De adviezen en taxaties worden specifiek op dit onderdeel getest middels een duurzaamheidscan/analyse.

U schakelt Den Daas Vastgoed in voor uw aankoop van uw woning of uw bedrijf. Ook voor verkoop, verhuur en huur van uw Commercieel vastgoed ben u zeker op het juiste adres. Door het verzamelen van data en laatste trasactie van diverse bronnen waaronder de NVM en het Kadaster kan ons kantoor u vele zorgen uit handen nemen. Een uitstekende gesprekspartner voor uitzonderlijke of moeilijke vraagstukken. Zit je met een vastgoedvraagstuk dan hebben wij meestal wel de oplossing of verwijzen wij u door naar professionals die u verder kunnen helpen.
De verkoop van woningen hebben wij de afgelopen 3 jaar overgelaten aan andere. Echter gaan wij vanaf 1 januari 2021 klanten adviseren en begeleiden bij de verkoop van hun woning of appartement.

Den Daas Vastgoed en Taxaties adviseert en taxeert uw vastgoed op de juiste waarde.

Welkom bij Den Daas.
What we do
Taxateur

NWWI-taxaties and TMI voor bedrijfstaxaties RICS bestendig

Aankoop begeleiding

Bemiddeling en advies

Specialismen

Taxaties and Aankoop

Verhuur & Verkoop

Woningen and Appartementen

Gecertificeerd

NRVT, VastgoedCert and NWWI
Hamersveldseweg 10 a,
3833 GP Leusden
Today opened until 17:00, available by phone until 17:30
All contact details
Contact
Visiting and mailing address
Hamersveldseweg 10 a
3833 GP Leusden
Opening hours
Monday

Mon

9:00 - 17:00

Tuesday

Tue

9:00 - 17:00

Wednesday

Wed

9:00 - 17:00

Thursday

Thu

9:00 - 17:00

Friday

Fri

9:00 - 17:00

Saturday

Sat

Closed

Sunday

Sun

Closed
At this office, you can also make appointments for viewings outside these opening hours.
Calling hours
Monday

Mon

9:00 - 17:30

Tuesday

Tue

9:00 - 17:30

Wednesday

Wed

9:00 - 17:30

Thursday

Thu

9:00 - 17:30

Friday

Fri

9:00 - 17:30

Saturday

Sat

9:00 - 17:30

Sunday

Sun

Unavailable