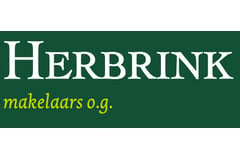 Herbrink Makelaars
Herbrink Makelaars, waar koper en verkoper elkaar ontmoeten
About us
's avonds en in het weekend zijn wij bereikbaar op nummer: 06-10340364

Thuis in de regio. Herbrink Makelaars is sterk geworteld in de eigen regio. Als geen ander kennen wij de marktontwikkelingen en mogelijkheden van woonlokaties en bedrijfspanden in de omgeving Leusden en Amersfoort. Een bloeiende regio waarin we ook zelf blijven meegroeien. Kenmerkend voor de gemeente Leusden en omgeving is de centrale ligging in een groene regio en de snelle aansluitpunten op de Randstad. Een gewilde gemeente waarin het prettig wonen en succesvol ondernemen is!

Verkoop

Het verkopen van een huis is meer dan een bord in de tuin. Het vereist deskundig advies op maat, met een sterk accent op communicatie. Juist daarom doet u een beroep op ons, uw NVM-makelaar. Wij geven u graag een uitgebreide indruk van het verkooptraject, zodat u goed voorbereid het proces in gaat. Wilt u gedetailleerde informatie, dan biedt de map "Verkoop van uw woning" een goede uitkomst. Op uw verzoek sturen wij deze graag toe. Uiteraard staan wij daarnaast altijd klaar om al uw vragen te beantwoorden. Schroomt u niet ons het hemd van het lijf te vragen!

Aankoop

U bent op zoek naar een woning. Wellicht bent u, nadat u zelf wat rondgekeken heeft, tot de conclusie gekomen dat er heel wat komt kijken bij de aankoop van een huis of appartement van uw keuze. Herbrink Makelaars begeleidt u deskundig tijdens het gehele traject, van het onderhandelen over de prijs tot en met de overdracht. Wij helpen u graag op weg naar dat ene huis op maat.

Taxaties

Ook voor een taxatie kunt u een beroep doen op onze deskundigheid. Wij zijn dagelijks actief in de onroerend goed markt en weten als geen ander uw woning of bedrijfspand op de juiste waarde te schatten. De zorg en de snelheid waarmee onze rapporten vervaardigd worden, zijn kenmerkend voor ons kantoor en zullen u zeker aanspreken.

Herbrink Makelaars: thuis in de markt!
What we do
Aankoop begeleiding

Met ons als aankoopmakelaar staat u sterker!

Verkoop begeleiding

Duidelijke tarieven, uitgebreide presentatie

Gratis waardebepaling

Ontvang 'n duidelijke Vergelijkende Markt Analyse

Diensten

Verkoop, Aankoop, Taxaties, Gratis waardebepaling

Taxaties (NVM NWWI)

Taxaties conform het NWWI en NHG model

Certificering

NWWI, VastgoedCert, NVM en NRVT

Website

Www.herbrink.nl
Hamersveldseweg 56,
3833 GS Leusden
Today closed, currently not available by phone
All contact details
Contact
Visiting and mailing address
Hamersveldseweg 56
3833 GS Leusden
Opening hours
Monday

Mon

8:45 - 17:30

Tuesday

Tue

8:45 - 17:30

Wednesday

Wed

8:45 - 17:30

Thursday

Thu

8:45 - 17:30

Friday

Fri

8:45 - 17:30

Saturday

Sat

By appointment

Sunday

Sun

Closed
At this office, you can also make appointments for viewings outside these opening hours.
Calling hours
Monday

Mon

8:45 - 22:00

Tuesday

Tue

8:45 - 22:00

Wednesday

Wed

8:45 - 22:00

Thursday

Thu

8:45 - 22:00

Friday

Fri

8:45 - 22:00

Saturday

Sat

9:00 - 21:00

Sunday

Sun

Unavailable