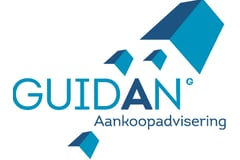 Guidan aankoopadvisering
De enige NVM-aankoopspecialist in Apeldoorn, Deventer en de gemeente Voorst
About us
Ik ben Guido Leerkes en oprichter van Guidan aankoopadvisering. Na bijna 10 jaar werkzaam te zijn geweest voor een traditioneel makelaarskantoor moet het anders. De wens van de woningzoeker moet centraal staan en niet het aanbod van woningen. Het is tijd voor vernieuwing.
Als makelaar merkte ik dat de relatie tussen woningzoeker en makelaar verzwakte. Het belang van kopers verdwijnt steeds verder achter anonieme zoekprofielen. En ook de inzet en betrokkenheid van makelaars kan in mijn ogen anders. Daarom draai ik mijn benadering om en zet uw belangen voorop. Guidan staat voor actief zoeken en alle mogelijkheden benutten.
Woningzoekenden vinden verkopers vinden elkaar voornamelijk via Funda.nl. Daarmee werkt de woningmarkt nog volgens hele ouderwetse principes. Dat komt nog nauwelijks voor in onze maatschappij. Waarom zou het zo moeten blijven terwijl het over uw woongenot gaat?! En daarom is het tijd voor vraag gestuurd makelen. Guidan staat voor innovatie met uw belang in het vizier. Wij verkopen geen woningen, maar adviseren uitsluitend kopers bij de aankoop van hun droomwoning.
U bepaalt zelf
Bij Guidan bepaalt u zelf hoeveel begeleiding uw wenst. Wij hebben 3 overzichtelijke pakketten samengesteld. Wij kunnen u van A tot Z begeleiden met een all-inclusive pakket, maar kunnen ook alleen met u meegaan voor een onafhankelijk onderbouwd aankoopadvies.
Met de unieke benadering van Guidan krijgt het vak z'n glans weer terug. Het makelen gaat weer over de belangen van mensen en hun woonwensen. Ik verdiep me in wat u werkelijk belangrijk vindt en ga actief aan de slag. U zegt me wat u nodig heeft en ik geef antwoorden.
Ik sta te trappelen om ook voor u aan het werk te gaan. Schrijf u vrijblijvend in als woningzoeker en u zult zien dat ik het echt anders doe.
What we do
Aankoop begeleiding

Geen verkoop dus 100% onafhankelijk, Aankoopspecialist in Apeldoorn, Deventer en Voorst and Schrijf je in voor onze unieke zoekservice

Specialisme

Aankoop

Certificering

NWWI gecertificeerd, NWWI, NVM and NVM Makelaars

Website

Aankoop
Martinusweg 19,
7391 AC Twello
Today opened until 17:30, available by phone until 21:00
All contact details
Contact
Visiting and mailing address
Martinusweg 19
7391 AC Twello
Opening hours
Monday

Mon

8:30 - 17:30

Tuesday

Tue

8:30 - 17:30

Wednesday

Wed

9:00 - 13:00

Thursday

Thu

8:30 - 17:30

Friday

Fri

8:30 - 17:30

Saturday

Sat

9:00 - 13:00

Sunday

Sun

Closed
At this office, you can also make appointments for viewings outside these opening hours.
Calling hours
Monday

Mon

8:30 - 21:00

Tuesday

Tue

8:30 - 21:00

Wednesday

Wed

8:30 - 21:00

Thursday

Thu

8:30 - 21:00

Friday

Fri

8:30 - 21:00

Saturday

Sat

9:00 - 13:00

Sunday

Sun

Unavailable