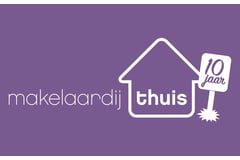 Makelaardij Thuis
Thuis in wonen! Voor persoonlijke en professionele begeleiding bij (ver)kopen!
About us
Een jong en gedegen makelaarskantoor in Vlaardingen met jarenlange ervaring in de vastgoedmarkt. Bernadette Veltman heeft het kantoor in 2008 opgestart en inmiddels staat er een compleet, enthousiast team voor u klaar! Inmiddels zijn wij een begrip in Vlaardingen en omstreken en overal ziet u onze paarse Te Koop borden hangen. Sinds oktober 2019 zijn wij gevestigd aan Korte Hoogstraat 33A en u bent van harte welkom om ons prachtige kantoor te bezoeken!
Makelaardij Thuis staat voor persoonlijke, professionele begeleiding bij de aan- of verkoop van uw woning.
Wilt u uw woning verkopen, wilt u graag begeleiding bij uw aankoop, of heeft u een uitgebreid NWWI taxatierapport nodig? Hiervoor bent u aan het juiste adres.

Voor financiële zaken verwijzen wij u graag door naar een van de erkende hypotheekadviseurs van De Hypotheekshop Vlaardingen, gevestigd aan Korte Hoogstraat 19A te Vlaardingen. Zij zijn u graag van dienst!
Wij doen ons werk met plezier. En dat merkt u!
Naast de aankoop- en verkoop van bestaande bouw zijn wij bij veel nieuwbouwprojecten van Vlaardingen betrokken. Vanaf het begin af aan vragen ontwikkelaars onze betrokkenheid bij de projecten die Vlaardingen iedere keer weer een beetjke mooier maken. Want wij zijn natuurlijk trots op onze stad! Gemeenten en ontwikkelaars maken graag gebruik van onze marktkennis via de Woningmarktconsultancy, een gespecialiseerde opleiding die Bernadette heeft afgerond. Zij is 1 van de 65 NVM woningmarktconsultants die Nederland telt.

Nieuwsgierig? Belt u Makelaardij Thuis voor een kennismaking en wij komen vrijblijvend bij u langs. Tot ziens!
What we do
Specialisme

Lid van NVM Woningmarktconsultants

Doelgroep

Voor persoonlijke én professionele begeleiding

gecertificeerd

CRMT gecertificeerd and NVM Woningmarktconsultant

Website

Www.makelaardij-thuis.nl

Diensten

Begeleiding bij verkoop van uw woning, Aankoopbegeleiding, NWWI-taxaties and Woningmarktconsultancy
Korte Hoogstraat 33 A,
3131 BJ Vlaardingen
Today geopend op afspraak, currently not available by phone
All contact details
Reviews
We hebben een poos zonder aankoopmakelaar gezocht en biedingen gedaan, zonder resultaat. De eerste keer met aankoopmakelaar was meteen raak. Bernadett...
Error while loading the page. Please try again.