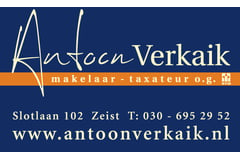 Antoon Verkaik Makelaardij o.g.
Glashelder. Kennis van zaken. Betrokken.
About us
Het is prettig wonen in Zeist en omgeving. Midden in het groen, centraal gelegen en goed bereikbaar. Antoon Verkaik Makelaardij o.g. heeft een gedegen kennis van deze regio en de woningmarkt. Daardoor kunnen wij u op maat adviseren bij het aan- of verkopen van uw huis.
Wat mag u van ons verwachten?
- duidelijk en eerlijk advies
- realisme
- heldere communicatie
- gedegen kennis van de woningmarkt
- kwaliteit, service en persoonlijke aandacht.
Antoon Verkaik Makelaardij o.g.is een compacte organisatie. Naast Antoon Verkaik als makelaar treft u op kantoor Désirée Reinders. Onze lijnen zijn kort. Wij kennen onze opdrachtgevers en onze werkwijze is persoonlijk en flexibel.
Met onze slogan 'Glashelder, kennis van zaken, betrokken' onderstrepen we onze manier van dienstverlenen.
Waarom Antoon Verkaik Makelaardij o.g. inschakelen?
"Antoon is een professioneel, deskundig en gepassioneerd makelaar. Voor hem is het beroep van makelaar een ambacht, onderscheidend en echt."
"Hij adviseerde niet de hoogste prijs, maar kon dit heel helder motiveren. Van de drie vergelijkbare huizen in onze straat werd ons huis wel voor de hoogste prijs, net onder de vraagprijs, verkocht."
"Goed vakman, oog voor detail, eerlijk en duidelijk. Scherp en prettig onderhandelaar. Betrouwbaar en integer."
"Het feit dat we Antoon Verkaik na ons eerste contact twee opdrachten hebben verstrekt, is de bevestiging dat we Antoon als een zeer capabel, integer, prettig en betrokken makelaar hebben ervaren."
Contact
Wij zijn iedere werkdag geopend van 9.00 uur tot 17.30 uur. Andere tijden op afspraak.

Telefoonnummer: 030 – 69 52 9 52
Mobiel: 06-54 93 61 15
E-mail: info@antoonverkaik.nl
What we do
Gecertificeerd

NVM, VastgoedCert and NWWI

Diensten

Verkoop, Aankoop and Taxaties

Dienstverlening

Persoonlijke betrokkenheid, eerlijkheid, deskundig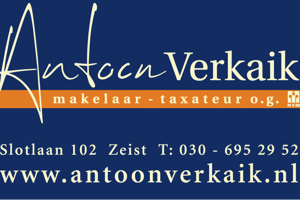 Reviews
De verkoop van duinweg 5 is een zeer lange weg geweest. Nu zoekt iedereen wel een zondebok maar als belangstellenden om de makelaar heen mij een visit...
97
Sale
In the past 2 years, 24 clients wrote a review about this agent:
9.7

Knowledge of the local market

9.8

Expertise

9.8

Service and support

9.5

Price/quality
All reviews (

92

)
95
Buy
In the past 2 years, 16 clients wrote a review about this agent:
9.6

Reachability and communication

9.6

Expertise

9.5

Negotiation and results

9.3

Price/quality
All reviews (

64

)
Contact
Visiting and mailing address
Slotlaan 102
3701 GR Zeist
Calling hours
Monday

Mon

9:00 - 17:30

Tuesday

Tue

9:00 - 17:30

Wednesday

Wed

9:00 - 17:30

Thursday

Thu

9:00 - 17:30

Friday

Fri

9:00 - 17:30

Saturday

Sat

Unavailable

Sunday

Sun

Unavailable
Error while loading the page. Please try again.