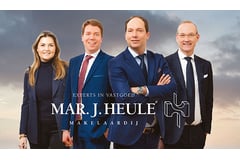 Heule Makelaardij
Wij zetten geen woningen te koop, wij verkopen ze!
About us
Specialisten van A tot Z.
De onroerendgoedspecialisten van Mar.J.Heule Makelaardij b.v. zijn stuk voor stuk uitstekend opgeleide en ervaren makelaars.
Zij kennen de particuliere en bedrijfsmarkt als geen ander.
Hun kennis staat borg voor een professionele afhandeling van uw onroerendgoedtransactie.

Full service: Alles in één hand
Mar.J.Heule Makelaardij b.v. is al meer dan 40 jaar actief op de onroerendgoedmarkten van Groot-Amsterdam. Bij Mar.J.Heule Makelaardij b.v. vindt u alle disciplines onder één dak. Of het nu gaat om aan- of verkoop van uw huis of bedrijfsgebouw, huur en verhuur, waardebepalingen, taxatgies, beleggingen, beheer of bouwkundige adviezen: het team van Mar.J.Heule Makelaardij b.v. staat voor u klaar, ook voor een geheel vrijblijvend gesprek. Ons kantoor kenmerkt zich door dynamiek en een gedegen kennis van de markt. Ons devies: visie en vertrouwen.

Mar.J.Heule Makelaardij b.v. staat u met raad en daad terzijde bij de aan- en verkoop van uw huis.
Ons kantoor beschikt over een ruime, actuele portefeuille van appartementen en woonhuizen in Amsterdam en omstreken. Wij adviseren u bij aan- en of verkoop en voeren op een profssionele manier de onderhandelingen. Potentiële kopers houden wij van dag tot dat op de hoogte van het actuele aanbod. Per e-mail, post of telefonisch. Bovendien is de complete portefeuille met het actuele aanbod te vinden op onze dynamische website: www.heulemakelaars.nl.

Huur of verhuurplannen?
Mar.J.Heule Makelaardij b.v. zal u snel en efficiënt behulpzaam zijn bij de huur of verhuur van een woonhuis of appartment.
What we do
Aanbod

Exclusief onroerend goed, Appartementen, Nieuwbouw and recreatiewoningen

Certificering

NVM Makelaars

Specialisme

Huur en verhuur, Exclusief onroerend goed, Beheer, Bedrijfs onroerendgoed and Beleggingen
De Lairessestraat 16,
1071 PA Amsterdam
Today opened until 17:00, available by phone until 17:00
All contact details
Reviews
Zonder overbodig ge l u l vakkundig en ter zake. Hoezo 100 characters wat is dat nou voor onzin. Tijdverlies hoeveel nog
Error while loading the page. Please try again.