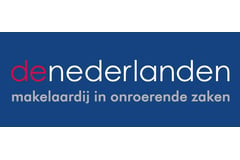 De Nederlanden
De Nederlanden makelaardij in onroerende zaken.
About us
De Nederlanden makelaardij in onroerende zaken.

Sinds Makelaardij de Nederlanden in 2004 neerstreek in haar kantoor aan de winkelstraat Bosboom Toussaintstraat 54 te Amsterdam Oud West, is zij één van de meest toonaangevende kantoren in Amsterdam en omgeving geworden. Haar medewerkers kenmerken zich door pro actieve aankoopmethoden en persoonsgerichte begeleiding bij het aan- of verkopen van appartementen en woningen. Niet alleen selecteert Makelaardij De Nederlanden de mooiste huizen voor u maar zorgen haar medewerkers ook ervoor dat u als één van de eersten uitgenodigd wordt om het appartement van uw keuze te komen bezichtigen. Met raad en daad staan de makelaars u te woord en adviseren ze over de aankoop van de woning; advies in de breedste zin van het woord. Van een bouwkundige analyse, wel en wee binnen de Vereniging van Eigenaars en bouwplannen in de buurt tot aan een verbouwplan binnen de woning om de badkamer te vergroten of een serre aan te bouwen. Maar vooral ook geeft de makelaar een waarde af voor de woning en een aankoopstrategie. Geen onbelangrijke punten bij het verkrijgen van uw droomhuis !
De Nederlanden biedt dus zowel voor, tijdens als na uw aankoop haar intensieve begeleiding. En dat onderscheidt haar van de wildgroei aan snelle makelaarskantoren in onze hoofdstad. Natuurlijk helpt Makelaardij De Nederlanden u ook om de hoogste prijs en meest gunstige levertijd te verkrijgen bij de verkoop van uw huis. Allereerst komt één van onze makelaars geheel vrijblijvend langs ter kennismaking en om met u te praten over de verkoopstrategie van uw woning waar we uw wensen vanzelfsprekend in mee nemen. Indien gewenst kunnen we ook bemiddelen om een gerenommeerd stylist samen met u te laten brainstormen om het appartement verkoopklaar te maken. Want u weet, alleen de eerste indruk telt en die moet indrukwekkend zijn ! Vanzelfsprekend zorgen wij voor mooie foto's op Funda, onze eigen site en de site van de Makelaars Vereniging Amsterdam. Na een zorgvuldige voorbereiding presenteren wij vervolgens uw woning aan alle potentiële kopers en onderhandelen ook, in overleg met u, over de prijs, de datum van eigendomsoverdracht en een eventueel financieringsvoorbehoud. Natuurlijk vergezellen we u ook naar de notaris voor alle juridische afhandeling.

Kortom, Makelaardij De Nederlanden biedt u een Full-Service pakket, zodat u met een fijn gevoel, een volgende stap zet in uw woon carrière.

Maakt u gerust een vrijblijvende afspraak met één van de medewerkers van Makelaardij De Nederlanden voor een kennismakingsgesprek bij u thuis of op de Bosboom Toussaintstraat.
What we do
Specialisme

Verkoop, Aankoop, Taxatie, Bouwkundig Advies and Financiële Planning
Reviews
Laagdrempelig en goed contact. Continue up to date gehouden! Zeer goede service, absolute aanrader!!
9.8
Sale
In the past 2 years, 1 clients wrote a review about this agent:
9

Knowledge of the local market

10

Expertise

10

Service and support

10

Price/quality
All reviews (

10

)
Buy
As soon as there is an average available, it will appear here. Until then, you can read reviews that are older than 24 months.
All reviews (

2

)
Contact
Visiting and mailing address
Bosboom Toussaintstraat 54 hs
1054 AV Amsterdam
Opening hours
Monday

Mon

8:30 - 17:30

Tuesday

Tue

8:30 - 17:30

Wednesday

Wed

8:30 - 17:30

Thursday

Thu

8:30 - 17:30

Friday

Fri

8:30 - 17:30

Saturday

Sat

Closed

Sunday

Sun

Closed
Error while loading the page. Please try again.