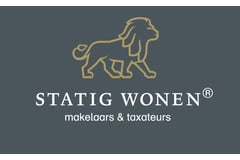 Statig Wonen® makelaars & taxateurs
Buitengewoonlijk Persoonlijk!
About us
Het kantoor is gericht op maximale klanttevredenheid en heeft een sterke focus op verkoop, aankoop en verhuur van bijzondere woningen. Ons netwerk strekt zich uit tot ver over de landsgrenzen, waarbij wij een intensieve samenwerking onderhouden met De Boer & Partners in Turnhout en Mol (Belgie). Onze doelgroep gerichte marketing uit zich niet alleen in de exclusieve brochures, borden en advertenties, maar ook in onze aanwezigheid op evenementen zoals CSI Eindhoven, Polo League Waalre, Velhoven Culinair en de Waalre Rally. Tevens is ons kantoor een actieve sponsor van 6 hockeyclubs in de regio. Ook geven wij tenminste 1x per jaar het Statig Wonen magazine uit met een grote oplage, welke deels worden verspreid in de villawijken in Zuidoost Brabant en deels worden verspreid bij restaurants, Golfclubs, Hockeyclubs en andere geselecteerde bedrijven in de regio.
Ons team bestaat uit 4 enthousiaste en ervaren personen die reeds lange tijd werkzaam zijn in de vastgoedbranche, waarbij ieder een eigen specialisme heeft ontwikkeld.
Anke Raaijmakers is vaak het eerste aanspreekpunt van ons kantoor en zij is onze steun en toeverlaat voor de gehele binnendienst.
Perry Jacobs is al vele jaren makelaar en gecertificeerd taxateur en kent de regio Zuidoost Brabant als geen ander.
Boudewijn Trieling is de specialist op het gebied van creatieve oplossingen om de verkoopbaarheid van uw woning te vergroten en zijn adviezen zijn vaak een succes gebleken.
Kenneth Verstralen is onze aquisiteur en evenementenmanager, heeft een uitzonderlijk groot netwerk en beschikt over een uitgebreide kennis van het Eindhovense vastgoed.
Voor een adviesgesprek met één van onze makelaars kunt u contact opnemen via telefoonummer 040-7878758.
What we do
Netwerk

In binnen -en buitenland

Specialisme

Verkoop en verhuur bijzondere woningen

Dienstverlening

Persoonlijk en doelgroep gericht

Diensten

Verkoop, Aankoop and Verhuur

Website

Statigwonen.nl and villazuid.nl
Heuvelplein 28,
5741 JK Beek en Donk
Today opened until 17:00, available by phone until 21:00
All contact details
Transactions (past 12 months)
24
properties sold or rented out
0
properties purchased or rented
Sold and rented out
Contact
Visiting and mailing address
Heuvelplein 28
5741 JK Beek en Donk
Opening hours
Monday

Mon

9:00 - 17:00

Tuesday

Tue

9:00 - 17:00

Wednesday

Wed

9:00 - 17:00

Thursday

Thu

9:00 - 17:00

Friday

Fri

9:00 - 17:00

Saturday

Sat

By appointment

Sunday

Sun

Closed
At this office, you can also make appointments for viewings outside these opening hours.
Calling hours
Monday

Mon

8:30 - 21:00

Tuesday

Tue

8:30 - 21:00

Wednesday

Wed

8:30 - 21:00

Thursday

Thu

8:30 - 21:00

Friday

Fri

8:30 - 21:00

Saturday

Sat

9:00 - 17:00

Sunday

Sun

Unavailable