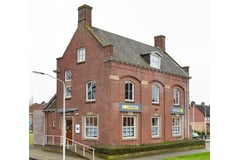 Van der Heijden Makelaardij
MEER DAN 40 JAAR UW WONINGMAKELAAR
About us
Van der Heijden Makelaardij
(Een betrouwbaar kantoor met meer dan 42 jaar ervaring)

De makelaars/taxateurs van dit kantoor zijn gespecialiseerd in de verkoop, aankoop, verhuur bestaande woningen en verkoop van nieuwbouwwoningen.
Voor u als aspirant-koper is het belangrijk om te weten dat de taxateurs van dit kantoor over een bijzonder groot taxatie- en verkooparchief beschikken, waardoor zij snel goed onderbouwde taxaties kunnen aanleveren, zodat u zeker weet of het aangeboden woonhuis o.a. een juiste prijsstelling heeft.

Als u uiteindelijk de woning heeft gevonden die u graag wilt kopen kunt u deze
woningmakelaar inschakelen bij de verkoop. Voor een aantrekkelijk tarief voeren zij dan voor u de onderhandelingen en brengen achtereenvolgens een bod uit, voorzien van eventuele ontbindende voorwaarden. Als makelaar controleren zij voor u de koopakte en lijst van zaken, alsmede zijn zij aanwezig bij de inspectie op het moment van levering.

Ook voor een hypotheek hebben de specialisten op dit kantoor de mogelijkheid de financiering van uw zojuist gekochte woning tegen aantrekkelijke voorwaarden te kunnen regelen.

Samengevat kunt u Van der Heijden Makelaardij 6 volle dagen per week van 09:00 uur tot 21:00 uur (m.u.v. zon- en feestdagen) bereiken en inschakelen voor:

- Taxaties voor alle doeleinden (NWWI)(binnen 24 uur gereed).
- Verkoop woningen op "No cure, no pay" basis.
- Aankoop woningen.
- Hypotheken en verzekeringen (gratis adviesgesprekken).

Wilt u een vrijblijvend en kosteloos gesprek omtrent aangeboden zaken dan kunt u ook zaterdags of desgewenst 's avonds een afspraak maken.
What we do
Diensten

Verkoop, Aankoop , Taxaties and Verhuur
Spoorstraat 1,
5684 AA Best
Today opened until 21:00, available by phone until 21:00
All contact details
Reviews
Het contact was heel goed. In de periode, waarin mijn man net overleden is, was de betrokkenheid en empathie groot
Error while loading the page. Please try again.