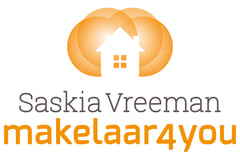 Saskia Vreeman Makelaar 4You B.V.
Saskia makelt met een personal touch en is pas tevreden als jij dat ook bent!
About us
Een eigen woning of huurwoning gaan bewonen of verkopen is een spannende zaak; hoe pak ik het aan? Wat wil ik eigenlijk en kan ik dat betalen?
Onze missie en passie is om jou daarbij te helpen op een manier zoals jíj dat prettig vindt en een klankbord voor jou te zijn bij één van de belangrijkste beslissingen in je leven! Wij zijn pas tevreden als onze klanten dat ook zijn en daarom bieden wij een 100% tevredenheidsgarantie.
Succesvolle makelaars onderscheiden zich doordat zij hun enthousiasme, hun overtuiging en hun passie over het product kunnen overbrengen op de klant. Daar gaat het om: de klant net zo enthousiast maken als je zelf bent. Dat is waar we voor gaan, samen met jou. Een gratis intakegesprek met jou geeft ons inzicht in wat jij nodig hebt op dat moment.
Daar stemmen wij onze dienst op af en daardoor betaal je nooit teveel. We nemen jou werk uit handen waarin je zelf niet ervaren genoeg bent, waar je geen tijd voor hebt of waarbij je je niet zeker genoeg voelt.
Saskia is een professional met ruim 25 jaar ervaring in de makelaardij, beëdigd als makelaar/taxateur door de Rechtbank Almelo in 1996 en staat 6 dagen per week tot je dienst!

Om het gemakkelijker te maken hebben we vast een paar standaard diensten gemaakt. Mochten er toch aanvullende of andere wensen zijn dan gaan we een persoonlijk dienstenplan voor je maken en een bijbehorende prijs offreren. Op momenten waarop het jóu uitkomt kunnen we alle zaken samen bespreken. Dat betekent dat we in voorkomende gevallen ook buiten kantoortijden bereikbaar en beschikbaar zijn voor advies en informatie. Op elk moment kun je eveneens informatie over de status van je opdracht inwinnen, omdat we met een digitaal klantendossier werken.
What we do
Klantgericht

Flexibel, Pro-actieve houding, Servicegericht o.a. ook bij verhuizen and Deeldiensten, klant krijgt wat hij nodig heeft

Certificering

NWWI, VastgoedCert, NVM and Vastgoed Veiling Twente Achterhoek

Dienstverlening

Aankoop en Verkoop, Huur en Verhuur, Taxaties (o.a. NWWI en WOZ), Nieuwbouw and Veilingbegeleiding

Onderscheidend

Creatieve en innovatieve adviezen and Nieuwe verkooptools, social media inzetten

Specialismen

Taxaties (o.a. Bijzonder Beheer), Woningmakelaardij and Veilingbegeleiding
Aanslagsweg 22,
7622 LD Borne
Today opened until 12:00, available by phone until 17:30
All contact details
Reviews
Erg vriendelijk en super behulpzaam. Zonder Saskia hadden was het ons nooit gelukt. Veel kennis veel ervaring. Dikke aanrader!
96
Sale
In the past 2 years, 9 clients wrote a review about this agent:
9.8

Knowledge of the local market

9.8

Expertise

9.8

Service and support

9.2

Price/quality
All reviews (

92

)
91
Buy
In the past 2 years, 6 clients wrote a review about this agent:
9.2

Reachability and communication

9.2

Expertise

9.3

Negotiation and results

8.8

Price/quality
All reviews (

21

)
Contact
Visiting and mailing address
Aanslagsweg 22
7622 LD Borne
Opening hours
Monday

Mon

10:00 - 12:00

Tuesday

Tue

10:00 - 12:00

Wednesday

Wed

10:00 - 12:00

Thursday

Thu

10:00 - 12:00

Friday

Fri

10:00 - 12:00

Saturday

Sat

11:00 - 13:00

Sunday

Sun

Closed
At this office, you can also make appointments for viewings outside these opening hours.
Calling hours
Monday

Mon

9:00 - 17:30

Tuesday

Tue

9:00 - 17:30

Wednesday

Wed

9:00 - 17:30

Thursday

Thu

9:00 - 17:30

Friday

Fri

9:00 - 17:30

Saturday

Sat

Unavailable

Sunday

Sun

Unavailable
Error while loading the page. Please try again.