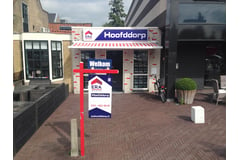 ERA Hoofddorp
Houden van je vak straal je uit door enthousiasme!
About us
Iedereen die een huis verkoopt staat voor uitdagingen en heeft vragen, waarom ERA?
Meer dan 25 jaar ervaring leerde mij dat in onze dienstverlening grofweg in twee fasen is te verdelen.
Het 'harde' zakelijke deel. En het 'zachte' voorbereidende deel. De 7 'zachte' stappen in dit proces noemen we onze 7 klantbeloften:
stap 1 Een vrijblijvend verkoopgesprek
stap 2 Woningfotografie en inmeting
stap 3 Samen met u alle lijsten en paperassen invullen (kan digitaal of op papier) plus afgifte huissleutel.
Stap 4 De introductie van Youella telefonisch of 'in persoon' op kantoor (afhankelijk of u alles digitaal aanlevert op kantoor aflevert). Zij komt al dan niet met 1 van de makelaars om uw woning op te nemen.
stap 5 Pakkende verkooptekst sturen we vooraf aan u per mail en wordt door u gekeurend en na gekeken.
stap 6 Publicatie we gaan op Funda aanmelden en op era.nl en op erahoofddorp.nl, we publiceren op onze digitale screens op kantoor en we verspreiden alvast een verkoopmailing (in uw wijk) als 'teaser'.
stap 7 Maken van onze nog ongeëvenaarde brochure van uw woning. Deze wordt zowel op funda gepublceerd als gedrukt. En tot slot rollen we onze social media strategie uit.
Het vervolg gaan we nog niet verklappen. Bel of mail ons daarvoor. We komen graag bij u thuis voor een vrijblijvende offerte en we maken het 'Geheim van de Smid' bekend.

(offertes worden niet opgestuurd zonder een bezoek vooraf aan de te verkopen woning)
What we do
Aanbod

Appartementen, Woningen, Garageboxen, Uitponding and Woningen en appartementen in elke prijsklasse

Diensten

Verkoop, Aankoop, Taxaties and Advies

Certificering

VastgoedCert, NVM Makelaar and NWWI

Specialisme

Starters, Gezinnen, Alleenstaanden, Senioren and Echtscheiding

Dienstverlening

Gedreven, Enthousiast, Betrokken, Correct and Klant is KONING

Website

Website: erahoofddorp.nl, simpel, overzichtelijk and heeft de beste vindbaarheid op Google
Marktplein 29,
2132 DA Hoofddorp
Today opened until 17:00, available by phone until 17:00
All contact details
Reviews
Mede dankzij de expertise en werkwijze van het team van Era Hoofddorp is ons huis snel en zeer goed verkocht. Wij zijn dan ook zeer blij met de samenw...
9.4
Sale
In the past 2 years, 38 clients wrote a review about this agent:
9.5

Knowledge of the local market

9.5

Expertise

9.4

Service and support

9.3

Price/quality
All reviews (

154

)
8.9
Buy
In the past 2 years, 5 clients wrote a review about this agent:
8.4

Reachability and communication

9

Expertise

9.6

Negotiation and results

8.6

Price/quality
All reviews (

22

)
Contact
Visiting and mailing address
Marktplein 29
2132 DA Hoofddorp
Opening hours
Monday

Mon

8:30 - 17:00

Tuesday

Tue

8:30 - 17:00

Wednesday

Wed

8:30 - 17:00

Thursday

Thu

8:30 - 17:00

Friday

Fri

8:30 - 17:00

Saturday

Sat

Closed

Sunday

Sun

Closed
Calling hours
Monday

Mon

9:00 - 17:00

Tuesday

Tue

9:00 - 17:00

Wednesday

Wed

9:00 - 17:00

Thursday

Thu

9:00 - 17:00

Friday

Fri

9:00 - 17:00

Saturday

Sat

Unavailable

Sunday

Sun

Unavailable
Error while loading the page. Please try again.