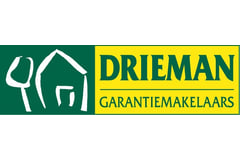 Drieman Garantiemakelaars
Kantoor Leiderdorp is onderdeel van Drieman, 'n groot netwerk in 't Groene Hart!
About us
Een nieuwe woning kopen doet u niet iedere dag. Waarschijnlijk heeft u alle eisen waar uw nieuwe thuis aan moet voldoen duidelijk op een rij, maar hoe vindt u nou die ene woning? En als u hem vindt betaalt u dan eigenlijk een reële prijs en wat is de bouwkundige staat van de woning? Deze en al uw andere vragen worden stuk voor stuk beantwoord als u uw eigen aankoopmakelaar inschakelt.

Van zoekopdracht tot overdracht!

Graag nodigen wij u uit om op kantoor al uw woonwensen door te spreken en te "matchen" aan de huidige en de toekomstige woningmarkt. We zullen dan uitvoerig ingaan op alle mogelijkheden van aankoopbegeleiding en u adviseren over het zoekproces. Niet alleen kunt u ervoor kiezen om Drieman te laten zoeken naar geschikte woonruimte maar denkt u ook eens aan;

- het verrichten van grondig vooronderzoek
- begeleiding bij bezichtigingen
- waardebepaling
- het doen van bouwkundig onderzoek
- prijsonderhandelingen
- regelen van juridische zaken
- begeleiding bij de notaris

Om de begeleiding af te stemmen op uw situatie werkt Drieman Garantiemakelaars o.g. met het Aankoop Zekerplan. Hier worden alle afspraken op vastgelegd en kunt u zelf aangeven in welke mate u begeleiding wenst. Zo heeft u ook meteen zwart op wit wat u van ons mag verwachten!

Graag nodigen wij u uit op kantoor voor een vrijblijvend gesprek. Om alles in alle rust door te kunnen spreken vragen wij u vriendelijk hiervoor een afspraak te maken. Wij zijn bereikbaar op het telefoonnummer 071 - 82 000 20 of per mail leiderdorp@drieman.nl

Meer weten? Kijk op www.drieman.nl of haal de informatieset op bij ons kantoor.

P.s. Onze vestigingen in Woerden, Alphen aan den Rijn, Bodegraven en Nieuwkoop hebben samen rond de 250 woningen in de verkoop. Bezoek daarom eens onze website www.drieman.nl voor een overzicht van ons totale woningaanbod!
What we do
Certificering

NWWI, VastgoedCert, NVM Makelaars and NVM

Diensten

Verkoop, Aankoop, Taxaties and diverse verkoop en aankoop pakketten

Doelgroepen

Woningen, Appartementen, Nieuwbouw and Vrijstaande woningen

Website

Plattegronden zien en downloaden

Specialisme

Aankoop, Verkoop and Taxaties
Oosterschans 1,
2352 DG Leiderdorp
Today opened until 17:30, available by phone until 23:45
All contact details
Reviews
Goede communicatie, perfecte service. Staat altijd klaar. Verstand van zaken en de medewerkers waren ook zeer klant vriendelijk, behulpzaam. Aanbeveli...
90
Sale
In the past 2 years, 33 clients wrote a review about this agent:
9.2

Knowledge of the local market

9.1

Expertise

9

Service and support

8.9

Price/quality
All reviews (

117

)
Buy
As soon as there is an average available, it will appear here. Until then, you can read reviews that are older than 24 months.
All reviews (

2

)
Contact
Visiting and mailing address
Oosterschans 1
2352 DG Leiderdorp
Opening hours
Monday

Mon

9:00 - 17:30

Tuesday

Tue

9:00 - 17:30

Wednesday

Wed

9:00 - 17:30

Thursday

Thu

9:00 - 17:30

Friday

Fri

9:00 - 17:30

Saturday

Sat

Closed

Sunday

Sun

Closed
At this office, you can also make appointments for viewings outside these opening hours.
Calling hours
Monday

Mon

0:00 - 23:45

Tuesday

Tue

0:00 - 23:45

Wednesday

Wed

0:00 - 23:45

Thursday

Thu

0:00 - 23:45

Friday

Fri

0:00 - 23:45

Saturday

Sat

0:00 - 23:45

Sunday

Sun

0:00 - 23:45
Error while loading the page. Please try again.