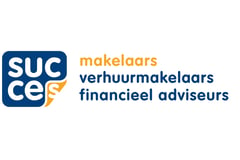 Succesmakelaars & financieel adviseurs
Van een Garantiemakelaar mag je meer verwachten
About us
Ons verhaal

Succesmakelaars een nieuw kantoor in de markt? Niet echt.
Succesmakelaars is ontstaan door de samenwerking van Paul Winkel makelaardij en VDW makelaars uit Amersfoort en Den Daas makelaars uit Leusden.

Samen goed voor meer dan 100 jaar ervaring in de branche en momenteel het enige fullservice kantoor in de regio met een eigen hypotheek- en verzekeringsafdeling.
Uiteraard zijn we net als de meeste NVM makelaars goed in ons vak, maar waar blinken we in uit? Onze grootste kracht schuilt hem in een optimale begeleiding van mensen die een niet alledaagse vraag hebben of echt ontzorgd willen worden. De volgende klanten worden bij ons erg enthousiast:
Mensen die zowel gaan kopen, verkopen en financieren en blij zijn met 1 aanspreekpunt.
Mensen die vanwege leeftijd of gezondheid van groot naar kleiner gaan.
Ondernemers die een eigen woning gaan kopen en een hypotheek nodig hebben.
Mensen die hun eerste woning gaan aankopen.
Mensen die gaan scheiden en waar een van de partners wil blijven wonen.
Mensen die een hypotheekadvies meer vinden dan de goedkoopste rente vinden.
Mensen die het lastig vinden om een leuke woning te vinden en aan te kopen.
Uiteraard gaan we voor elke klant voor het optimale resultaat en realiseren we over het algemeen een betere verkoopopbrengst en binnen een snellere tijd dan gemiddeld.

Dankzij de 5 heldere garanties van het landelijke verband Garantiemakelaars, wordt de kwaliteit zeker gewaarborgd.
What we do
Gecertificeerd

VastgoedCert

Doelgroepen

Particulieren en MKB

Bedrijfshuisvesting

Begeleiden van MKB projecten

Taxaties

Taxaties conform het NWWI en TMI voor BOG

Website

Www.succesmakelaars.nl

Dienstverlening

Verkoop, Aankoop, Verhuur, Taxaties, Hypotheken

Specialismen

Waarderen van onroerende zaken
Hamersveldseweg 72,
3833 GS Leusden
Today opened until 17:00, available by phone until 23:45
All contact details
Reviews
De bereikbaarheid van de makelaar is zonder meer goed te noemen. Ook heeft de makelaar een goede kennis van de markt en ook van het koopgedrag van men...
Error while loading the page. Please try again.