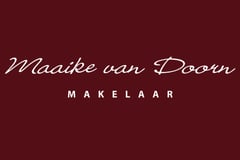 Maaike van Doorn Makelaar
Uw actieve makelaar op een markante locatie in het hart van de Veluwe.
About us
Uw thuis is uw alles. Een plek waar geborgenheid en gezelligheid hand in hand gaan. Waar sfeer heerst, uw sfeer. Als u op zoek gaat naar een andere woning of uw huis wilt verkopen, gaat u naar een makelaar die begrijpt wat 'thuis' betekent. Een makelaar die meedenkt en meevoelt. Die weet dat verhuizen meer is dan een woning achterlaten. Welkom bij Maaike van Doorn, de persoonlijke makelaar.
Persoonlijk en actief. Als er woorden zijn die de werkwijze van Maaike van Doorn Makelaar beschrijven, zijn het wel deze twee. Onze medewerkers gaan heel ver om u van dienst te zijn bij woningverkoop, taxatie of aankoopbegeleiding. We zijn bereikbaar, betrokken én enthousiast vanaf het eerste moment. Onze begeleiding is uitgesproken persoonlijk.
Een voorbeeld van onze dienstverlening? Neem woningverkoop. Vanaf het eerste telefoontje tot na de overdracht bij de notaris zijn wij bereikbaar voor uw vragen. We gaan regelmatig het gesprek aan over de verkoopstrategie en houden u op de hoogte van ontwikkelingen. Na een bezichtiging vertellen we altijd even hoe de kijkers reageerden. Dat wilt u weten, toch? Zo staan we doorlopend naast u!
Ons team bestaat uit Maaike van Doorn, Gary Vooges, Laura Konings, Nick Prins, Maartje van Beuzekom en Larissa Schimmel. Mensen die úw woondromen helpen realiseren. U vindt ze in een markant pand in Lunteren, pal tegenover het NS-station. Ons kantoor is aangesloten bij de Nederlandse Vereniging van Makelaars (NVM) en het Nederlands Woning Waarde Instituut (NWWI). Loop gerust eens binnen, u bent van harte welkom!
What we do
Gecertificeerd

VastgoedCert, NWWI en NVM and NRVT

Website

Onderscheidende en professionele foto's, hogere segment koopwoningen, koop woningen, huur en verhuur, nieuwbouwwoningen and Verkoop, Aankoop, Verhuur, Taxaties en Wonen

Diensten

Verkoop, Aankoop, Taxaties, MKB Taxaties and WOZ advisering

Soort aanbod

Vrijstaande woningen, Eengezinswoningen, Appartementen, Nieuwbouw and Recreatiewoningen

Dienstverlening

Overdag, 's avonds en op zaterdag

dienstverlening

Aankoop, Verkoop, Aanhuur, Verhuur and Taxatie

Aanbod

Woningen, Appartementen, Koop en huur en Nieuwbouw
Stationsstraat 49,
6741 DH Lunteren
Today opened until 17:30, available by phone until 22:00
All contact details
Reviews
Maaike van Doorn Makelaardij in Lunteren is zeer deskundig en heeft ons goed geholpen met de verkoop. We werden voortdurend op de hoogte gehouden van ...
9.0
Sale
In the past 2 years, 93 clients wrote a review about this agent:
9

Knowledge of the local market

9.2

Expertise

9

Service and support

8.8

Price/quality
All reviews (

240

)
9.1
Buy
In the past 2 years, 3 clients wrote a review about this agent:
9.3

Reachability and communication

9.3

Expertise

9.3

Negotiation and results

8.3

Price/quality
All reviews (

4

)
Contact
Visiting and mailing address
Stationsstraat 49
6741 DH Lunteren
Opening hours
Monday

Mon

9:00 - 17:30

Tuesday

Tue

9:00 - 17:30

Wednesday

Wed

9:00 - 17:30

Thursday

Thu

9:00 - 17:30

Friday

Fri

9:00 - 17:30

Saturday

Sat

9:30 - 12:30

Sunday

Sun

Closed
At this office, you can also make appointments for viewings outside these opening hours.
Calling hours
Monday

Mon

8:00 - 22:00

Tuesday

Tue

8:00 - 22:00

Wednesday

Wed

8:00 - 22:00

Thursday

Thu

8:00 - 22:00

Friday

Fri

8:00 - 22:00

Saturday

Sat

8:00 - 17:00

Sunday

Sun

Unavailable
Error while loading the page. Please try again.