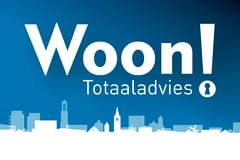 WOON! totaaladvies Makelaardij
Persoonlijk | Actief | Betrokken
About us
WOON totaaladvies Makelaardij is NVM-makelaar. Het feit dat u een NVM-makelaar inschakelt bij de aan- of verkoop van uw huis, geeft aan dat u de verkoop niet aan zo maar een makelaar overlaat. U kiest voor kwaliteit, betrouwbaarheid en deskundigheid. Sinds 1997 is ons kantoor, eerst als Jacobs - Gijsen een bekende naam in de regio. We zijn uitgegroeid tot een bloeiend kantoor met een gevarieerd woningaanbod en een steeds groter wordende vaste klantenkring. In een constant in beweging zijnde markt is vernieuwing een belangrijk onderwerp, vandaar dat er in 2018 gekozen is om na 20 jaar, naast een compleet vernieuwde huisstijl ook te kiezen voor een nieuwe naam.
We hebben dan wel een uiterlijke verandering ondergaan, op de Ospelseweg 23 in Nederweert vindt u nog altijd de 'Jacobs - Gijsen' mentaliteit.
Voor al uw vragen op het gebied van makelaardij, taxaties en hypotheken kunt u bij ons terecht.
Onze dienstverlening houden wij graag persoonlijk. Dit betekent individueel maatwerk bij het kopen of verkopen van de woning. We kennen de regio erg goed, we weten precies wat er dagelijks gaande is en spelen adequaat in op de omstandigheden.
Verkopen:
Een huis verkopen is altijd een spannende aangelegenheid. U doet dit immers niet elke dag. Wij brengen uw woning zo goed mogelijk onder de aandacht. Elke woning, groot of klein heeft iets bijzonders te vertellen. Het is onze taak om dat naar voren te brengen. Zo creëren we voor u de beste kansen. Uw woning is bij ons dan ook in goede handen.
Aankopen:
Een huis kopen is een grote stap en daar helpen wij u graag bij. Persoonlijk en betrokken. Het kan lastig zijn om uw droomhuis te vinden tussen het aanbod. Wij kunnen op basis van uw wensen met alternatieven komen waar u zelf nog niet aan had gedacht. Eenmaal uw droomhuis gevonden, dan wilt u bij de aankoop zorgvuldig te werk gaan. Als professional kunnen we voor u de begeleiding verzorgen en de onderhandeling voeren.
Maak vrijblijvend een afspraak. We zijn u graag van dienst !
What we do
Diensten

Verkoop, Aankoop, Taxaties and Hypotheken

Certificering

NVM Makelaar, NWWI taxateur and Erkend Hypotheekadviseur

Soort aanbod

Eengezinswoningen, Appartementen, Nieuwbouw, Bouwkavels and Bedrijfsobjecten

Specialisme

Verkoop woningen, Aankoop woningen, Taxaties and Hypotheken

Website

Www.woontotaaladvies.nu

Taxateur (NWWI)

Gecertificeerd WONEN Taxateur
Ospelseweg 23,
6031 AK Nederweert
Today opened until 17:00, available by phone until 17:00
All contact details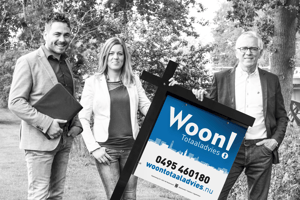 Reviews
Wij vonden de samenwerking met de makelaar prettig. Je kon goed op ze vertrouwen. Ook was de verkoopprijs wat de makelaar voorstelde was een realistis...
9.3
Sale
In the past 2 years, 40 clients wrote a review about this agent:
9.2

Knowledge of the local market

9.3

Expertise

9.4

Service and support

9.2

Price/quality
All reviews (

86

)
Buy
As soon as there is an average available, it will appear here. Until then, you can read reviews that are older than 24 months.
All reviews (

5

)
Transactions (past 12 months)
89
properties sold or rented out
0
properties purchased or rented
Sold and rented out
Contact
Visiting and mailing address
Ospelseweg 23
6031 AK Nederweert
Opening hours
Monday

Mon

9:00 - 12:30

, 13:30 - 17:00

Tuesday

Tue

9:00 - 12:30

, 13:30 - 17:00

Wednesday

Wed

9:00 - 12:30

, 13:30 - 17:00

Thursday

Thu

9:00 - 12:30

, 13:30 - 17:00

Friday

Fri

9:00 - 12:30

, 13:30 - 17:00

Saturday

Sat

By appointment

Sunday

Sun

Closed
At this office, you can also make appointments for viewings outside these opening hours.
Calling hours
Monday

Mon

9:00 - 12:30 , 13:30 - 17:00

Tuesday

Tue

9:00 - 12:30 , 13:30 - 17:00

Wednesday

Wed

9:00 - 12:30 , 13:30 - 17:00

Thursday

Thu

9:00 - 12:30 , 13:30 - 17:00

Friday

Fri

9:00 - 12:30 , 13:30 - 17:00

Saturday

Sat

Unavailable

Sunday

Sun

Unavailable
Error while loading the page. Please try again.