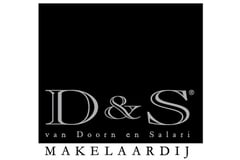 D&S Makelaars
Een jong kantoor met vertrouwde gezichten en een bekende kwaliteit!
About us
D&S Makelaardij:
D&S Makelaardij B.V. is een nieuwe makelaardij die onderdeel uit maakt van de D&S Groep, waarvan D&S Vastgoed B.V., u wellicht ook bekend, deel van uitmaakt.
De D&S Groep is een onderneming die zich breed georiënteerd op de "vastgoedmarkt" beweegt. De D&S Groep, al meer dan 25 jaar actief in het vastgoed, heeft nagenoeg alle diensten m.b.t. het vastgoed onder zijn dak, waardoor wij onze cliënten op vele gebieden in het Vastgoed van dienst kunnen zijn.
Om onze dienstverlening uit te breiden en nog flexibeler te kunnen werken, hebben wij dan ook besloten om een makelaardij toe te voegen aan de D&S Groep, waardoor onze dienstverlening met een belangrijke tak is uitgebreid.

Per 1 maart 2012 was D&S Makelaardij B.V. dan ook een feit. Michel de Heer, met meer dan 25 jaar ervaring in de makelaardij, trekt sinds de start de "kar" bij D&S Makelaardij B.V.
Medio Juni 2012 is D&S Makelaardij al uitgebreid met een vestiging in Vlaardingen, voorheen aan de Westhavenplaats sinds kort aan de Stoomloggerweg 4a en is Rob Timmermans (voorheen Timmermans Makelaardij), een bekende Vlaardingse makelaar met een jarenlange ervaring, D&S Makelaardij komen versterken. Hiermee hebben wij in korte tijd de regio waarin wij werkzaam zijn uitgebreid.
Uiteraard profiteert D&S Makelaardij van de jarenlange ervaring van de D&S Groep in het algemeen en van de verschillende onderdelen die onder de D&S Groep actief zijn.

Hoewel het in deze economisch lastige tijd misschien niet voor de hand ligt om een makelaardij op te starten, zijn wij toch van mening met D&S makelaardij iets te kunnen toevoegen aan de huidige markt. Wij zijn en blijven ook positief over de toekomst en gelukkig behalen wij met de makelaardij bevredigende resultaten.

Wij hopen dan ook u in de toekomst wellicht van dienst te kunnen zijn en mocht u vragen hebben, schroom dan niet om met ons contact op te nemen.
Met vriendelijke groet
D&S Makelaardij B.V.
What we do
Wonen

Verkopen, aankoopmakelaar, taxaties, regionaal and NWWI

verkoop

Woningen and BOG

Certificering

VastgoedCer, NWWI and NVM

Dienstverlening

Verkoopbemiddeling, Aankoopbegeleiding, Taxatie and Second Opinin

Verhuur

Woningen and Bedrijfs onroerend goed

Advies

Maatwerk onroerend goed advies. and ivm leegstandsverhuur
Land van Belofte 50,
3111 NW Schiedam
Today opened until 17:30, available by phone until 17:30
All contact details
Reviews
Top gedaan!. Wat kan je nog meer zeggen als het appartement binnen 2 weken definitief verkocht is.
Error while loading the page. Please try again.