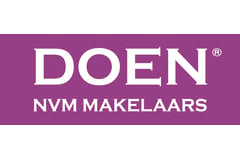 DOEN NVM Makelaars
Fullservice makelaarskantoor. Gedreven, persoonlijk en creatief. Gewoon DOEN!
About us
Welkom bij DOEN NVM Makelaars
Onze aanpak en werkwijze is wezenlijk anders dan die van andere makelaars; Wij makelen met aandacht, persoonlijke flair en met gebruik van alle (sociale) media en marketing van deze tijd. Wij zijn inventief, innovatief en doortastend.
Onze visie is dat mensen doorgroeien, verder willen, steeds nieuwe fasen in hun leven bereiken. Daar hoort altijd een passend woonhuis bij. DOEN NVM Makelaars is niet opportunistisch gefocust op de transactie maar is daarentegen geconcentreerd op uw toekomst. Want uw huis is een thuis, een plek om te wonen. Het maakt deel uit van uw leven en daarom verdient het kopen of verkopen van uw huis alle persoonlijke zorg en aandacht. En dat is precies waar DOEN NVM Makelaars sterk in is en voor staat. Naast een goed en doortastend advies nemen wij al het werk uit handen bij de verkoop en/of aankoop van uw woning.
Wij zijn trouw aan de menselijke aanpak die onze ervaren- en deskundige medewerkers al jaren typeert. Onze informele, laagdrempelige bedrijfscultuur en de hiermee samenhangende "no-nonsens" werkwijze is zonder meer onderscheidend te noemen. Ons team van specialisten staat garant voor deskundig advies en begeleiding op het gebied van woningmakelaardij, vastgoedmanagement, bedrijfshuisvesting, nieuwbouw initiëring, taxaties en consultancy, hypotheken en verzekeringen.
Persoonlijke aandacht voor onze opdrachtgevers staat centraal in onze dienstverlening. De werkwijze van DOEN NVM Makelaars laat zich het beste omschrijven als transparant, doeltreffend, actief maar zeker ook gedegen en met een uiterst persoonlijke benadering.
DOEN NVM Makelaars biedt tevens zakelijke oplossingen voor (complexe) vraagstukken van uiteenlopende aard en grootte.
Op www.doenmakelaars.com kunt u verdere informatie vinden over wat wij allemaal voor u kunnen betekenen. Tevens kunt u daar ons volledige (woning)aanbod bekijken met meerdere foto's en aanvullende informatie. Kom eens langs voor een kop koffie, wij stellen onszelf graag aan u voor.
What we do
Dienstverlening

Verkoop, Aankoop en Taxatie, verhuur van woningen en bedrijfsonroerend goed, Vastgoedmanagement, Consultancy, Maatwerkdiensten and Gratis waardebepaling

Aanbod

Appartementen, Woningen, Vrijstaande woningen, Bedrijfspanden and Winkel- en Woningbeleggingen

Doelgroepen

Starters, Alleenstaanden, Gezinnen, Senioren and Ondernemers, beleggers, beleggingsfondsen

Website

Overzichtelijk en toegankelijk, Onderscheidende en professionele foto's, Brochures downloaden and Inlog eigen Klantendossier.

I-phone

Eigen app gratis verkrijgbaar via I-Tunes
Laan van Nieuw Oosteinde 291,
2274 GE Voorburg
Today opened until 17:30, available by phone until 17:30
All contact details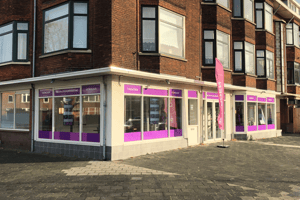 Reviews
Fair and clear communication, excellent handling of the whole procedure, reasonable price but especially - sweet people! My very best recommendation!
9.3
Sale
In the past 2 years, 22 clients wrote a review about this agent:
9.4

Knowledge of the local market

9.3

Expertise

9

Service and support

9.2

Price/quality
All reviews (

57

)
9.9
Buy
In the past 2 years, 2 clients wrote a review about this agent:
10

Reachability and communication

10

Expertise

10

Negotiation and results

9.5

Price/quality
All reviews (

2

)
Contact
Visiting and mailing address
Laan van Nieuw Oosteinde 291
2274 GE Voorburg
Opening hours
Monday

Mon

9:00 - 17:30

Tuesday

Tue

9:00 - 17:30

Wednesday

Wed

9:00 - 17:30

Thursday

Thu

9:00 - 17:30

Friday

Fri

9:00 - 17:30

Saturday

Sat

10:00 - 14:00

Sunday

Sun

By appointment
At this office, you can also make appointments for viewings outside these opening hours.
Calling hours
Monday

Mon

9:00 - 17:30

Tuesday

Tue

9:00 - 17:30

Wednesday

Wed

9:00 - 17:30

Thursday

Thu

9:00 - 17:30

Friday

Fri

9:00 - 17:30

Saturday

Sat

10:00 - 14:00

Sunday

Sun

Unavailable
Error while loading the page. Please try again.