Hightlighted features
Number of houses

11 (5 available)

Number of rooms

1 to 4

Plot size

338 to 580 m²
Project De Saller - 11 kavels
Zelf bouwen op de Saller? Dat kan op één van de 11 beschikbare kavels!

Binnen het plan de Saller heb je namelijk de kans om je eigen droomhuis te realiseren. Zelf of samen met bijvoorbeeld een architect of bouwbegeleider. Het mooie is: je bent helemaal vrij in wat je bouwt, als je maar rekening houdt met de voorwaarden uit het beeldkwaliteitsplan en de bestemmingsplanregels die de gemeente heeft opgesteld voor de Saller. De aannemer en architect kies je zelf.

Op onze website zijn (bij start verkoop) o.a. de geldende bouwregels, het beeldkwaliteitsplan, en een kavelpaspoort te downloaden.
Heb je tips of hulp nodig, dan denken wij uiteraard graag met je mee.

Het plangebied van de nieuwe wijk de Saller II ligt aan de noordzijde van Losser en beslaat grofweg het gedeelte tussen het reeds gerealiseerde gedeelte van De Saller I en de kern Losser. Het gezellige winkelcentrum is gelegen op loopafstand. Wonen in de Saller is wonen in een nieuwe ruim opgezette groene woonwijk met aantrekkelijke onder architectuur vormgegeven woningen. Dankzij een hoofdaansluiting naar de N374, die aansluit op de A1, kunt u alle kanten op. Binnen 10-15 minuten bent u al in Oldenzaal of Enschede. De gemeente Losser streeft ook in de Saller II naar een woonomgeving en bebouwing van hoge kwaliteit. Deze kwaliteit is nu al zichtbaar. Het eerste plandeel is inmiddels afgerond met veel groen, wadi's en fraaie woningen op ruime kavels.

8 Kavels
Er zijn 8 nieuwe kavels beschikbaar op de Havezatensingel en de Eversbergh en Boxbergen.
De sluitingsdatum van 4 februari voor het inschrijven zijn we inmiddels gepasseerd en de eerste opties zijn toegekend.
Het kan zijn dat mensen die nu een optie hebben op een kavel, zich toch nog bedenken. Je wordt automatisch op een reservelijst gezet en kan op een later moment alsnog worden gebeld. Heb jij de inschrijfdatum van 4 februari gemist? Dan is het mogelijk je nog in te schrijven op de reservelijst. Op de projectwebsite (roosdomtijhuis.nl/losser) is alle informatie rondom prijzen en andere verkoopstukken te vinden.

Vragen? Stel ze gerust! Hanneke ten Hag van Nieuw Wonen Twente en Ellen Wolters van Straatman Makelaardij staan graag voor je klaar! Hanneke is bereikbaar op 0620003827 en Ellen op 053 536 9000.

3 Kavels
Naast de 8 kavels zijn er nog 3 kavels aan de Havezatensingel beschikbaar. Het gaat hierbij om bouwnummer 2, 63 en 64. Heb je interesse in een van deze bouwnummers? Maak dit kenbaar bij Hanneke ten Hag van Nieuw Wonen Twente of Ellen Wolters van Straatman Makelaardij. Zij helpen je graag verder! Je bereikt Hanneke op 0620003827 en Ellen 053 536 9000.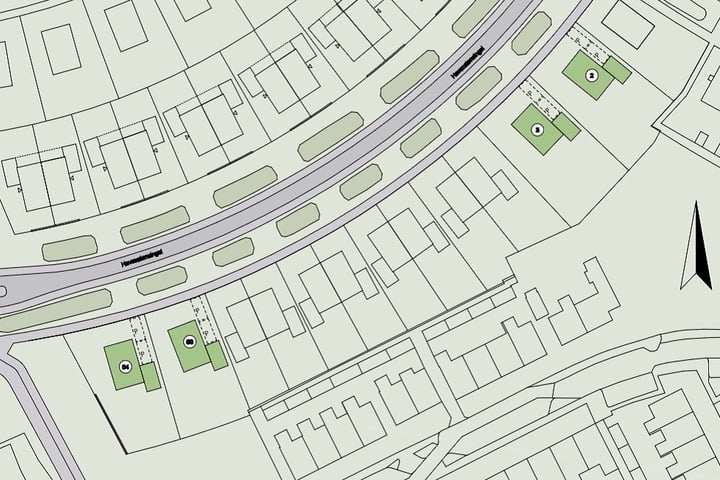 Residential property types
Of the 11 houses in this project 5 are available
De Saller - 3 kavels

Building plot

From € 192,750 to € 216,760 v.o.n.

De Saller - 8 kavels

Building plot

From € 134,500 to € 195,000 v.o.n.
Map
Cadastral boundaries
Buildings